PART ELEVEN: Willy Ronka and the Crystal Factory
So last time we got some Adamantite and beefed up the airship, then destroyed a bunch of cannons to enter the flying ruins of Ronka. The earth crystal is somewhere in these ruins, and we've gotta protect it, since it's the last one left!
The Ronka Ruins look like the ruins below Crescent/Gohn, because if you remember those were Ronkan ruins too.
Neither of these enemies is particularly dangerous. Ra Mages cast spells (duh), Stone Masks attack physically and are weak to lightning, since Lenna is rocking Summon magic they never hit me because rod-boosted Ramuh takes them out in one hit.
There's invisible floors in this dungeon, you can walk over these gaps.
Enchanted Fans are nice for Blue Mages! They can cast Aera if you haven't gotten it before but its real prize is White Wind.
White Wind is a recurring spell in Final Fantasy, it's a healing spell that targets your entire party that restores HP equal to your current HP. This is a fantastic spell if placed on a character with high HP, because it's probably going to be a full party heal for your mages. On top of that, White Wind works normally on undead characters, which is good considering that a much later job has an inherent Undead status, as well as a piece of great equipment. But all in due time.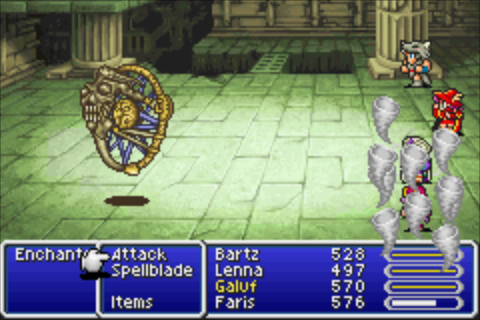 Berserker made learning White Wind a lot harder than it should have been, honestly I should have changed Bartz's job for at least a little while to get it. Anyway, White Wind is a spell that targets the user's party, so in order to learn it, you have to Confuse the Enchanted Fan and hope they cast it rather than doing something else, or preferably, use the Beastmaster's !Control.
See? Invisible floors! That treasure chest has Golden Armor, which has decent defense but personally I don't like the drop in other stats so I keep Ninja Suits on my heavy armor wearing classes (especially Berserker, that job needs all the speed it can get).
Thief (and Freelancer) are the only jobs that can equip the Thief's Gloves, so I change Faris back into a Thief here because there's two enemies with nice steals in this dungeon.
Added bonus: the Thief's Find Passages ability will color in the invisible floors so you can easily see the paths to take, including this slightly tricky one to that Elixir.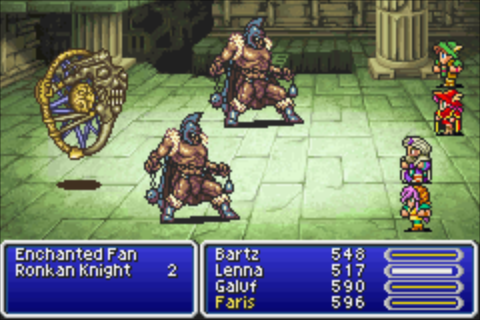 Ronkan Knights hit hard and have decent defense and there's nothing else interesting about them.
There was a Golden Shield in the chest here and I realized this whole time I'd been running around with Galuf not having a shield equipped at all. Oops!
I wonder what it is with RPGs having gold equipment. Gold is a very soft metal and it weighs a lot, it's horrible for armor and weapon purposes. I mean it could just be gold plated I guess for decorative purposes but if it's just gold plates on top of steel, how is it stronger than steel armor? Eh, I'm overthinking this.
Lamias are annoying because they can charm your characters. However they have two nice things about them.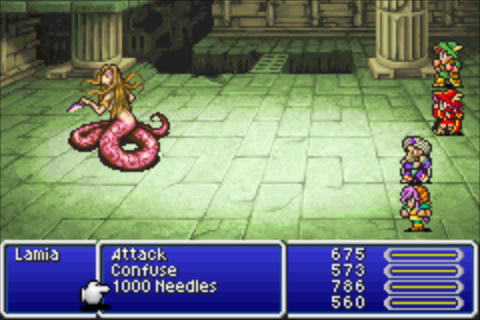 The first is that they can teach your Blue Mage 1000 Needles. 1000 Needles is an attack that always deals 1000 damage, it ignores any defense modifiers. This is nice because it's a guaranteed form of damage to enemies who would otherwise be tough to take down with normal attacks. Like the Skull Eaters in Jachol Cave.
Offensive spells like 1000 Needles require you to use !Control to use them on your party (Lamia will never use it herself by the way). See, if you just confuse the enemy, like when you tried to learn White Wind, since 1000 Needles is an offensive spell, the confused enemy will cast it on the enemy party, which doesn't help you. There's a couple of Blue Magic spells later that require some tricks if you want to learn them as soon as possible, we'll see them in a few updates.
Archeotoads are weak to ice and occasionally use Pond's Chorus, which your Blue Mage can learn if it hasn't already.
This room has a nasty trap! If you have a Geomancer in your party, its innate Find Pits ability will be helpful if you don't know about the trap. If you have Find Pits, when you are about to step into a tile containing a pit, the pit will appear and your character will jump in place. You can still fall down the pit after you've revealed it though so be careful.
Basically just avoid this tile, and the one in the center. Go around the left side to get these chests. Two neat items in here: the Ancient Sword, which is the best sword you can have at the moment, and the Power Armlet. The Power Armlet raises strength by 3 points and also has better defense than most other things you can equip at this point. The down side: only clothes/robe classes can equip it, heavy armor users can't, which is a shame.
Sweet, I got one! Lamias have Lamia's Tiara as a rare steal, which is a nice piece of gear for magic users. The Lamia's common steal is Maiden's Kiss, so you might not get one at all, this is the only one I managed to nab despite the multiple Lamias I stole from in this run.
Lamia's Tiara raises magic by 3 and has good magic defense, as you can see. You'll notice the item description talks about Sword Dance. What's that? We'll find out next update!
This is the pit that's dubbed the "Ronkan Speed Trap" by Fiesta players. This pit may not look like much, but as you can see there's only one square between it and where you have to turn to get around it. This means that people playing on an emulator in fast forward, or people with the Thief's Dash ability (or both!) will often run straight into this pit, putting them back down a level. It's only a minor annoyance, but it can still be frustrating, especially since it's easy to fall into it multiple times.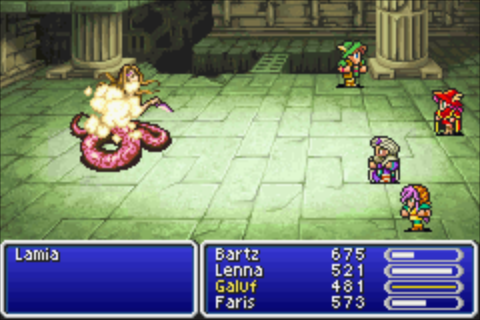 The Ancient Sword has a 33% chance of casting Old when it hits. This is what that spell effect looks like.
Hey isn't that King Tycoon over there?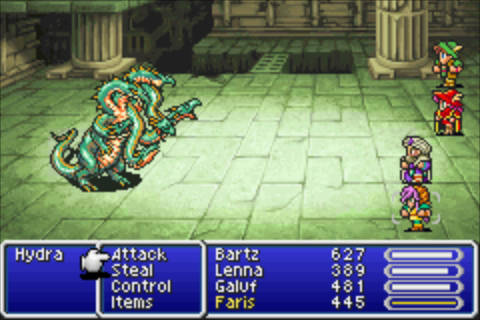 Nastier monsters start showing up on levels 4 and 5 of the ruins. Hydra here absorbs lightning and can cast Lightning, a spell similar to Breath Wing that deals 25% of max HP in damage to all characters.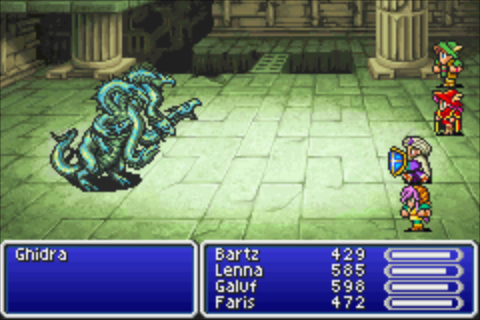 And this one is the nastiest of all. Ghidra is tough. It absorbs every element but Fire and Holy. But save your Fira spells, because it has inherent Reflect, meaning it'll bounce spells back at you. This is vitally important to remember if you've got the Ancient Sword or Death Sickle equipped: the Old and Death spells, if they proc, will be reflected back onto you. This does not make for fun times and it's the reason why Bartz is not a Berserker here.
Ghidra can use Lightning, much like Hydra, but it can also use Poison Breath, which is a powerful multi-target Poison element spell that might poison your party members.
To help deal with Ghidra, I'm using a summon here that doesn't get a lot of use: Remora. Remora paralyzes an enemy for a short time, and Ghidra is vulnerable to it. Usually Summoners have better things to do, but not in this battle, because I'm dumb and went for Ghidra's rare steal.
Ghidras have the Killer Bow as their steal item, and it's their only item (they don't have a common). This is good, as you won't steal a Potion or something else when you're trying to get the rare item. This is bad because rare items are a pain to steal, having a very low chance of success. I do finally succeed though. The Killer Bow is the strongest bow you can have at the moment, and has an 8% chance of killing the target.
When Ghidra dies, assuming it isn't paralyzed, it will cast Level 4 Graviga on your party. This is the last Blue Magic you can learn in the ruins. Level 4 Graviga reduces the current HP of the target by 75%. As its name implies though, it only works on targets whose level is divisible by 4. So make sure your Blue Mage/Learning character fits that requirement, I had a level 23 Galuf and had to grind him up to 24 so he could learn it.
There's a boss coming up, I change Bartz back to Berserker for now.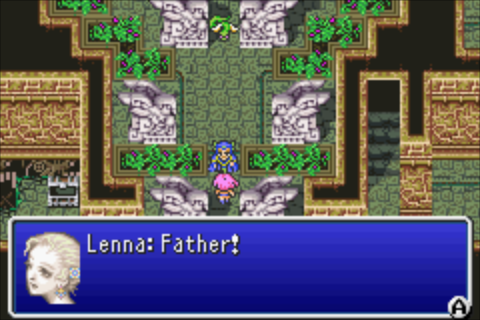 Urgh... That bedamned clapperclaw blocks the path!

Papa-

Silence! There is no time for chatter! That beast is the guardian of these ruins. It can change its weakness at will... Make yourselves useful and defeat it!
Hmm, King Tycoon doesn't sound very friendly...but well, we need to get through here to protect the crystal. Boss time!
Archeoaevis isn't really hard, but he can be a pain depending on your party composition. Here's his deal: he starts out with high defense but low magic defense, every time he changes forms his defense lowers and magic defense raises. In addition, the elements he's weak/absorbs change, as do the attacks he uses.
Physical damage dealers aren't going to be useful during this first phase. My Ninja, for example, only dealt about 80-90 HP of damage with her regular attacks, though by the end it was around 300. Archeoaevis starts out weak to wind, so if you have Geomancers !Gaia is worth using for a possible Wind Slash, or of course the Blue Mage's Aera is nice too.
After its first form, it is no longer weak to any element, and absorbs elements in this order: ice, fire, lightning. You can tell when the boss has changed forms, because the game will "pause" for a second or two when it does so.
After you've taken down the final form...

Oh! Look at it! Such energy! This is the true power of the crystals...!
This form isn't weak to anything, nor does it absorb anything, but it is effectively immune to magic. Its defense is pretty weak in this form though, so now physical attacks are the way to go.
The final form also has a level divisible by 5. One casting of Level 5 Death takes it out.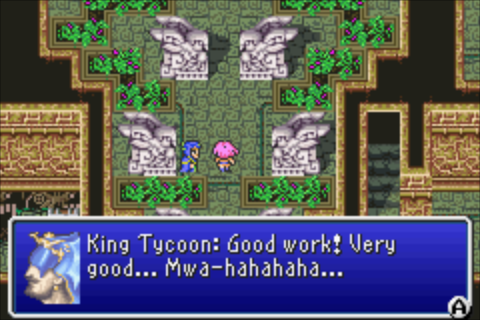 Huh. That seems...foreboding.
This is bad! Something's gotta be controlling him!
Bartz and Galuf step forward, but Lenna and Faris stand in their way.

Bartz, stop!

Don't even try it!

Step aside!

Heh... With the four of you gathered like this, it will be easier to destroy you all!
The king attacks the party, injuring them all, but Lenna and Faris still refuse to let Galuf or Bartz raise their weapons against their father. It looks pretty grim, but suddenly!
A meteor appears!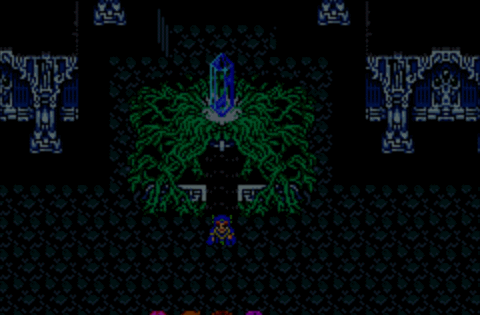 Grandpa! Grandpa! I'm so glad you're okay!
The girl runs over to Galuf's side.
GALUF GOT HIS MEMORY BACK!
Grandpa, I missed you so much...
After this happens, Lenna and Faris rush over to the body of King Tycoon.

Father!

Papa!
Oh, don't worry. I just hit him with a little strike of Thunder! He should be okay.

Ughhh... Where... Lenna...Sarisa? Sarisa--is that you!? It really is you... Sarisa! I can't believe it! You're alive!

Papa...Papa!
Aww...a heartwarming reunion. Galuf regains his memory, the girls regain their father, and we even protected the earth crystal! It's been a long journey, but we've finally made it, we saved the world.
Or...not.
The camera spins and zooms in on that place I've kept mentioning, that previously had all the stones in the corners.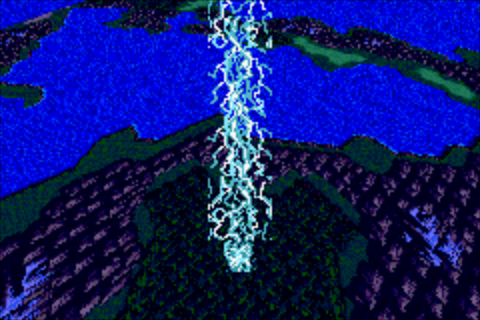 Lightning strikes the center of it, and then, back at the crystal room...
Exdeath is revived! We kinda suck at this saving the world thing.
Crystals! Obey my magic... Give me your power! Smite these vermin!!!

You think we're gonna just sit back and let you do whatever you want!?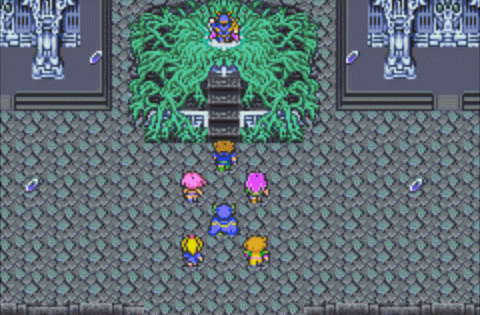 Hah! Now the crystals have been destroyed. Next shall be your world, Galuf!!!
Exdeath then vanishes.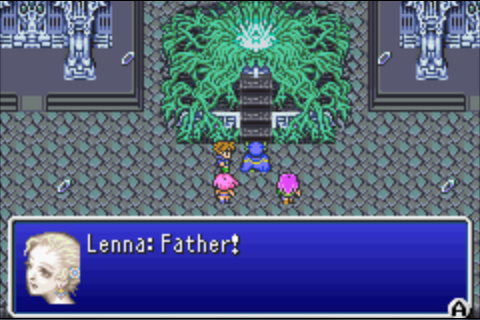 Sarisa...Lenna...Bartz, and you, warriors from another world. I fear your work is still unfinished. You must not allow the world to disappear into nothingness... Light of earth! Come forth and reclaim your essence from me!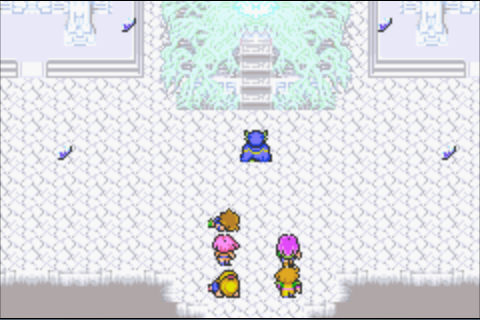 The crystal shards attack King Tycoon with the same attack Exdeath used against Bartz. The king continues to step forward, until the shards spin around his body, slowly...
And finally converge on him, knocking him down, and the crystals falling from the ceiling.

Father! Hold on!

You can't die!

Sarisa... Forgive me... I wasn't...much of a father... Lenna...Sarisa... Please, stay together... Become each other's strength... Bartz...take care of them...as I cannot...

Wait--Father! You can't-

Don't--don't leave us!
We got four new jobs now! Samurai, Dancer, Chemist and Dragoon are added to our arsenal. At that moment, the entire place starts shaking.

What's going on!?
It's the ruins--they're falling!
Oh right, the earth crystal is what was powering the ruins. Since it shattered, the ruins have no more power, and well, that means it can't keep itself airborne.

We've gotta get out of here! Everybody to the airship!
Everybody rushes out of the room, except Lenna, who stays at the body of her father.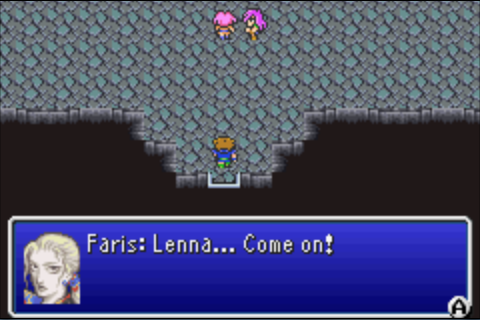 Fortunately Faris is able to persuade her to leave, and the party rushes through the ruins.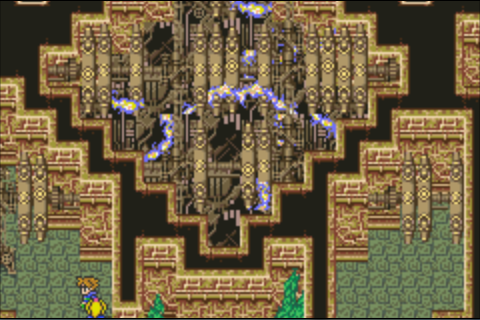 The party of course makes it to the airship, the bridge blowing up behind them, as the ruins fall to the ground.
The scene switches to the airship, where Faris is talking to Lenna.

Father... He's gone, isn't he...
Meanwhile, Bartz heads up to the bow of the ship, where Galuf is doing his best Leonardo DiCaprio from Titanic.
Yeah... We've got to get moving, and now!

Huh? What's going on?
It's all come back to me--I remember everything. Exdeath is an evil warlock from my world... Thirty years ago, he came here to destroy this world's crystals. I and three others--the Dawn Warriors--sealed him with the power of the crystals. Everything was fine for thirty years...we thought it was all over. But something bad was happening to the crystals. Once we figured it out, we took the meteors and came back here... But I was too late... Exdeath's not only been freed, but has returned to our world...

That's because we used too much of the crystals' power, right?
Galuf shakes his head.
No... We were the ones who left Exdeath on this world in the first place. Back then, we should have dragged him back to our world, like he said...
Hmm, interesting. The scene shifts to the Gohn Meteorite.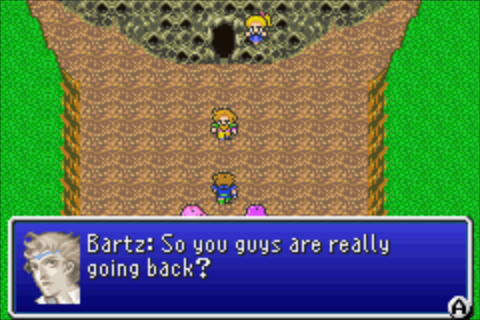 Yup. We've got to seal Exdeath again. Krile's meteorite should still have some juice left... Probably only enough for one more trip, though. Bartz, Lenna, Faris... Thank you so much for everything. I'll miss you guys.

What kinda nonsense is that? We're going with you!
No, you're not. This is the last meteorite. That means that if you went to my world, you'd never be able to come back here. Farewell!
Galuf and Krile enter the meteorite, and fly off into the sky. After this, you'll be in the airship over the Gohn meteorite. Landing the ship gets you a scene...

So, we've been talking...

They're still fighting Exdeath in that other world, and...

We've got to avenge Papa!

Yes! What's more...

Galuf... He's...

He's one of us.

Bartz!

We knew you'd get it!

Let's go then--to the other world!

...But how do we do that?

The meteorites don't have enough power to warp anywhere...

Well, when I think meteorites, I think Cid! He'll probably know something!
And so we have a goal! To follow Galuf to the other world and help him defeat Exdeath! And we'll do that next time, after I give a brief overview of our new jobs.