Part Six: We don't need no water
Last time, the Warriors of Light climbed the Tower of Walse in an effort to save the water crystal from a fate similar to the wind crystal, after King Walse's soldiers were unable to stop the rampaging Garula. A mysterious golden knight tried to protect the crystal, but was also defeated by Garula, and revealed just before dying that he knew Galuf's true identity, but died before he could divulge that information. The water crystal shattered, and the Warriors of Light grew stronger. Now, they head to Karnak in hopes that they can protect the fire crystal there.
We join our heroes as they approach the Walse Meteorite.
If you had come to the Walse Meteorite earlier, this door wouldn't be here.
Inside the meteorite, you'll come to this panel, and stepping on it causes Bartz to fly into the air while the rest of the party jumps back.
Did he make it? Did he...warp?

We won't know until we try!
Lenna and Faris hop onto the panel and warp as well, but Galuf sticks behind and thinks for a moment.
This...this all looks really familiar... And the soldier in that tower knew me... Who am I?
Whoooooo are you, who who, who who
Say, wasn't Galuf in a room that looked like this one in the intro? Does that mean Galuf was on a meteorite? But what would that mean?
Galuf hops on, and the world map scrolls to where we're teleporting to.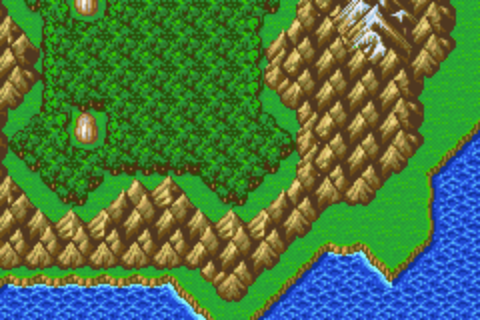 Hey, it's that odd clearing from when we were flying around on the dragon. Wasn't there a rock in the bottom left before though? There doesn't seem to be now...but why would that be?
We end up in Karnak. Well, the continent of Karnak at least.
New enemies! The Grass Tortoise always drops Turtle Shells when you beat it, which will come in handy later. Aegirs can inflict Old on your party. Old is a status that's unique to FFV, it's kind of like poison except it lowers your stats instead of your HP (except for your level). This means a character that's inflicted with Old will become weaker the longer the battle lasts. It wears off when the fight is over. Old is kind of annoying in that it's difficult to tell if some characters are inflicted with it by sight alone, unlike other stats, since the only difference is the character's hair will turn white/gray. The only way to get rid of it in battle is to use Esuna, but kind of like how removing Poison doesn't refill your HP, removing Old will not restore the stats you lost before it was cured in that battle.
Anyway, these enemies are weak enough that even if you get hit with Old it won't be much of a problem.
Zus are another enemy and they have more HP than other enemies, but they're still nothing too bad.
Ah, now this is an interesting enemy, as it can teach you a new blue magic spell. Wild Nakks can teach ???, which deals damage equal to the amount of HP you've lost.
So, you may ask, why use this when Vampire also deals damage equal to the amount of HP you've lost, and heals you on top of that? Well, there's two reasons. One, it's that Vampire heals you up. ??? does not, meaning if you've lost 500 HP, you can deal 500 HP every turn with ???, whereas with Vampire you could only deal it once and then Vampire's attack power would be horribly weak if you weren't attacked again. Second, as ??? does not have curative properties, it's effective against undead enemies, whereas Vampire would heal an undead enemy.
The annoying part is that unlike other spells, ??? will not show up at the top of the screen when it's used. It will look like a regular attack...well, not exactly like a regular attack, there's a slight graphical difference, but there's a good way to tell when it's been used.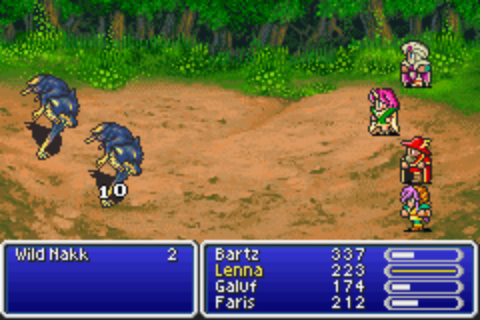 Lenna attacks with her rod, and the attack deals 10 HP of damage.
This is a Wild Nakk using ???. As you can see, it dealt 0 damage to Faris, as I hadn't dealt any HP damage to that particular enemy. This will not count if it hits your Blue Mage/Learning character, since a blue magic spell must succeed in its effect to be learned. This is why a Blue Mage with Silver Specs on can't learn Flash, as they would be immune to being blinded. Likewise, since 0 HP means it didn't "hit" it won't count.
Galuf finally gets hit by an attack that does 10 HP of damage. Since that's a ridiculously low amount of damage, that means it must be ??? and Galuf has now learned it.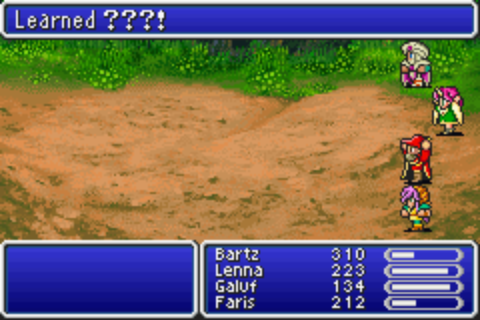 You probably won't use this spell much, but it can be powerful in the right situations.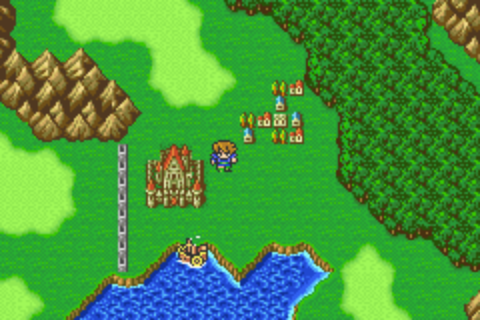 We've reached Karnak! There's a couple of places to go, but at the moment you can only get inside the town, so go there.
The music will tell you that something sinister is going on here (the track is named Cursed Lands).
They were so bothersome, the queen built a wall to shut them out! Er...obviously, now you can't get to the library anymore.
This is why there's a wall to the west of Karnak, and why you can't just skip this place.
The magic shop is locked, so no new magic for now. Let's hit up the weapon and armor shops.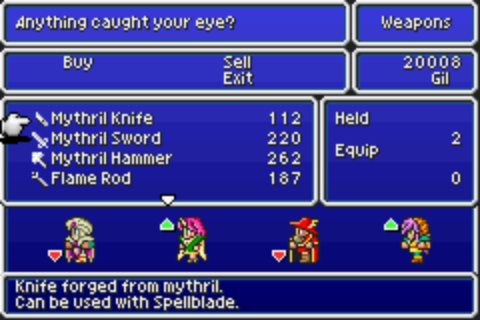 Wow, it's all so cheap!
Okay, so here's how this goes down. When you go to the weapon/armor shop and try to buy something, you'll see "Stop right there!" and you'll be kicked out of the shop. However, you actually did succeed in buying the thing you wanted. So whatever you think you want the most, choose that, since you only get one chance and you only get one of the item. I chose a Flame Rod, but the Mythril Hammer is probably the "best" to choose since it's the most expensive after this happens (these low prices are only before this event).
Anyway, back to the story at hand.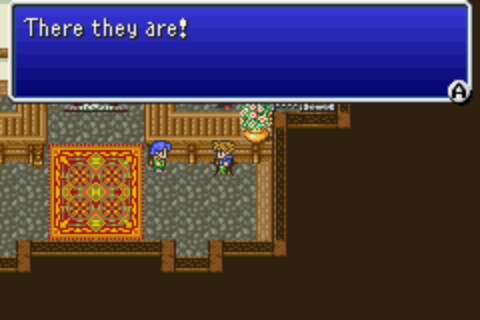 Obviously, the party has no clue what's going on.
So unfortunately, because of a misunderstanding, the guards come in and haul the party off to prison.
There's not a whole lot to do in the cell, though you'll notice the unique character sprite in the cell next door. Just run around a bit, it'll be a while before the next scene triggers, and it can't trigger if you're next to the wall, because...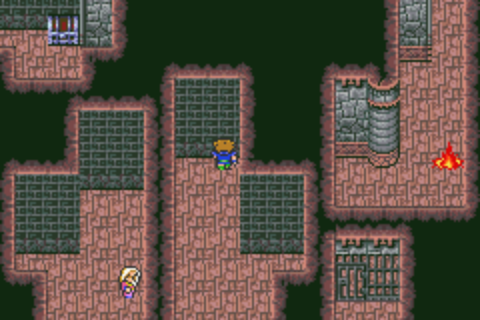 The old man walks over to the wall between your cells...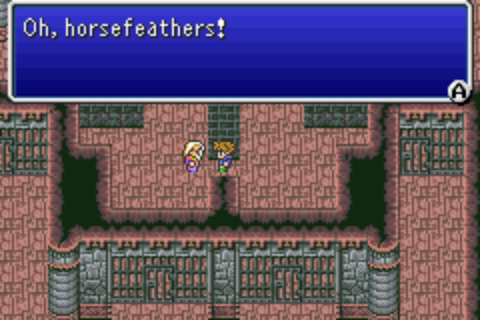 And blows it up. But he's a bit disappointed because his great escape is now foiled.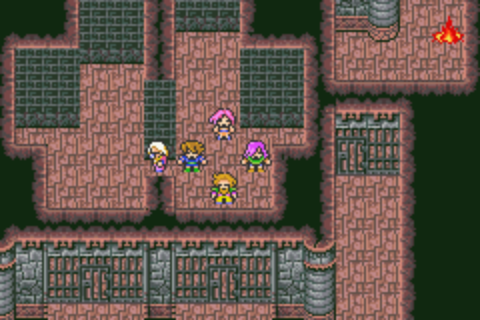 So what does the party do? They laugh at him. Bartz, don't you remember how bad it felt when they laughed at you for being afraid of heights? And now you're laughing at an old man failing to escape prison? Man, the Warriors of Light are jerks.
Oh, you kids think that's funny, do you?
They quickly shake their heads after being called out on it.
Eh...doesn't matter. The name's Cid.
Final Fantasy V Cid isn't one of the more memorable ones in the series. IV has arguably the best Cid, VII's Cid is pretty cool except for the whole verbal abuse of Shera thing, VIII's Cid was Robin Williams, IX's Cid wasn't human for most of the game but had a sweet 'stache...yeah, V's Cid isn't all that great. But he's not terrible. He's certainly better than VI's banana raincoat Cid.

What? The same Professor Cid who made those terrible machines to amplify the crystals? Forgive me, that was rude...
No, you don't have to apologize. It's the truth, after all. I'm to blame for everything... It's been years... One day, I found an ancient tome in the Library of the Ancients. It said that thousands of years ago, the crystals held much more power than they do now. So, I studied the crystals at Tycoon, Walse, and Karnak, and built machines to enhance them... But I was wrong...increasing their power output only caused them to shatter... Oh, it's all my fault!

But why are you locked up?
I was too late to save the crystals in Tycoon and Walse... Figured I could at least save the one here in Karnak. But when I tried to switch off the machine, they threw me in here.

So, you're in the same boat as us...
You're here to protect the crystal?

Yup! They asked us to!
Bartz holds out the crystal shards to show Cid.
What!? A crystal shard... Who are you people!?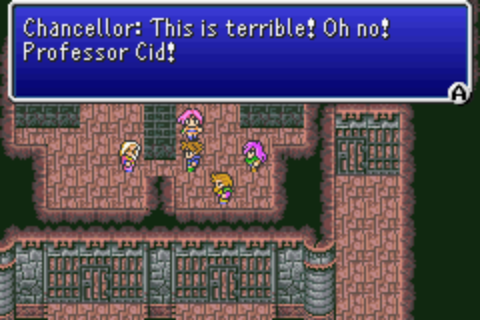 The conversation is interrupted by the chancellor.
What's happened?
You were right all along... The crystal's cracked!
What!?
I turned off the amplifier, but the crystal's power output has only increased...
The fire-powered ship...
Yes? What about it?
Most likely the fire-powered ship is what's leeching power from the crystal.
Professor, please. We cannot do this alone. Please help us!
I need these kids' help as well.
I dunno but it kinda bugs me how a lot of the characters refer to the Warriors of Light as kids. Cid may be older than Galuf, but Galuf's hardly a kid. He has a granddaughter after all.
What? They were seen coming out of the meteorite. They're in cahoots with that werewolf!
If they can't help, I guess I can't either.
...All right, Professor.
You're willing to help me, right?
Well it sure beats rotting in a dungeon cell. Oh, and I guess we were kinda charged with protecting the crystals.
I'll go ahead to the fire-powered ship. It's not exactly a safe place to be...you get ready and meet me there. I'll be waiting!
What he means is there's monsters there.
We have free reign of the castle now.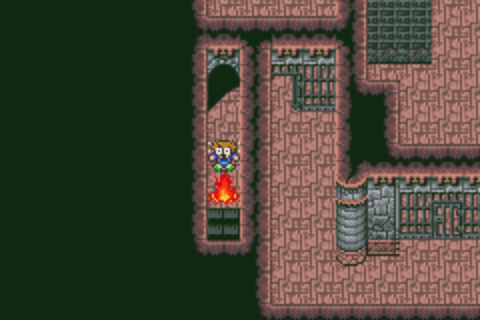 Well, okay, "free reign" is a bit of an exaggeration. Lots of places are blocked off by fires, after all, this place is under the blessing of the fire crystal.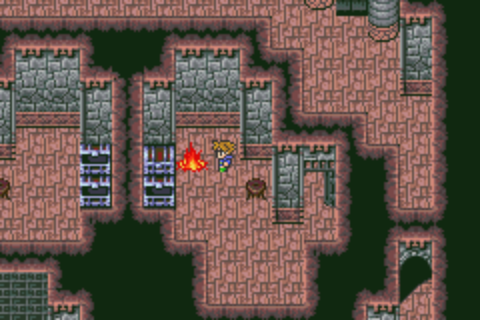 Treasure chests are also blocked off by fires. How inconvenient. You just know there's good loot inside them.
Due to the fires, there's really nowhere to go except outside the castle.
When you do, the werewolf decides to pay a visit.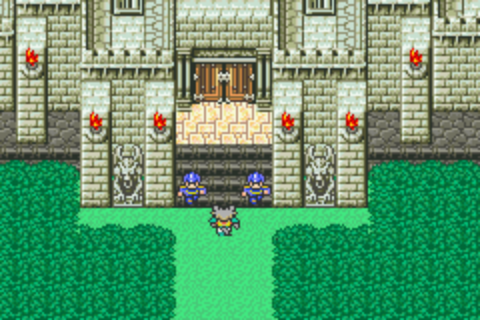 There's some explosions, and the werewolf runs off.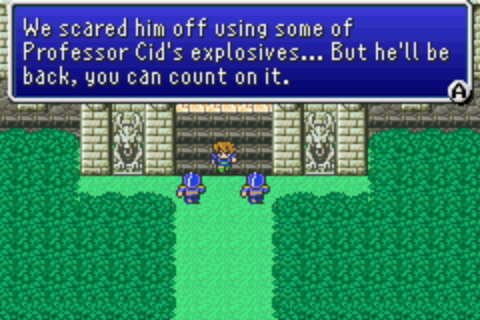 Before heading onto the fire-powered ship, stop back by Karnak town to prepare like Cid told you. You'll find the magic shop is now open.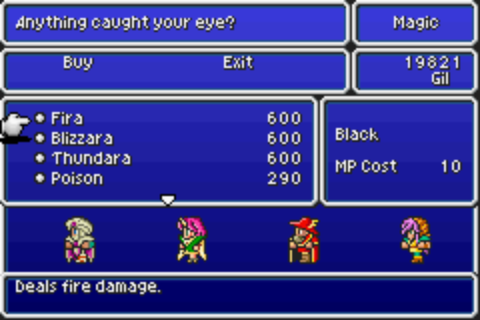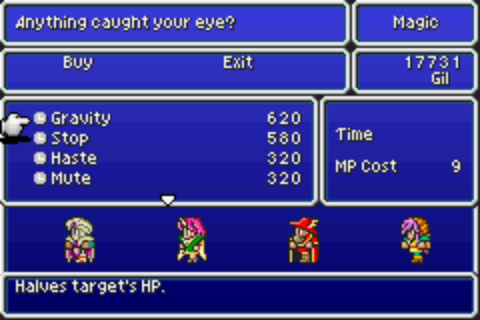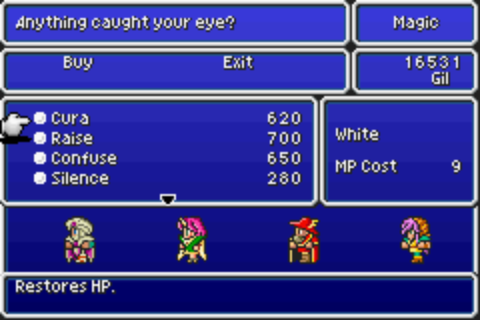 The second level elemental spells are here for Red/Black Mages, more good stuff for your White/Red Mages, and your first set of time magic is available. Gravity deals damage equal to 25% of the target's current HP, heavy type enemies are immune to it. Mute is an interesting spell. Mute inflicts the Silence status on every target in battle...including your own party, guaranteed. This may sound somewhat useful, but the spell cannot be cast in boss battles, limiting its usefulness.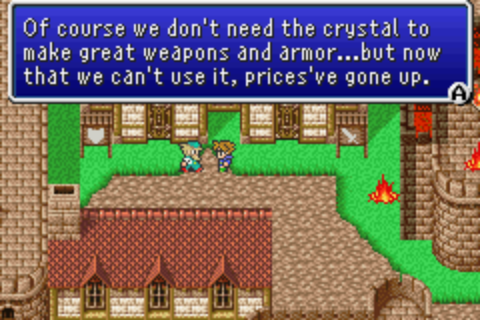 The power of the crystal is why prices were so cheap when we first visited Karnak, but now weapons and armor are quite a bit more expensive. No more 250 gil Mythril Hammers!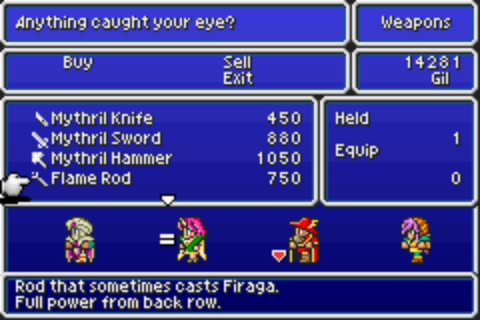 So yeah. Buy what you need. I get one of each elemental rod, to boost the appropriate spells for bosses.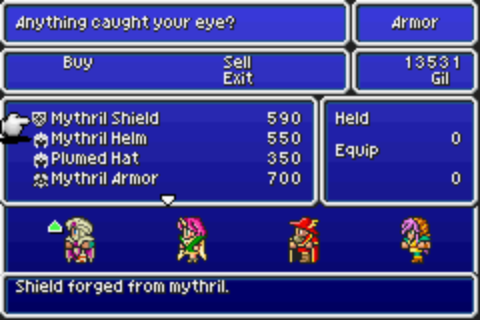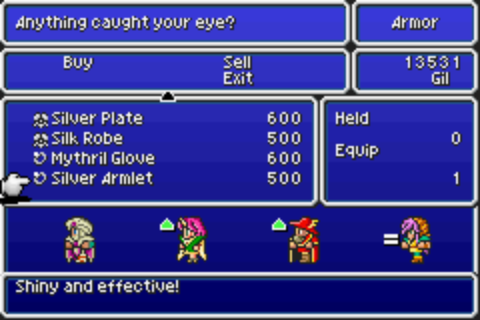 The armor shop now has Mythril armor pieces, though Bartz has been sporting a Mythril Helmet for a while and he can't make any use of shields right now. Silk Robes are available for casters and Silver Plates for light armor jobs here too.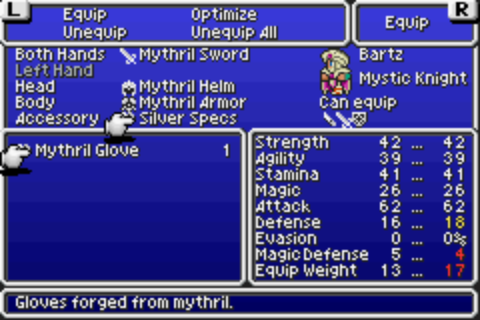 Mythril Gloves provide decent enough defense, so I put one on. Magic defense takes a slight hit but eh, one point. There is an enemy that uses Flash in the next dungeon and can blind you though, so you may not want to swap the Silver Specs out.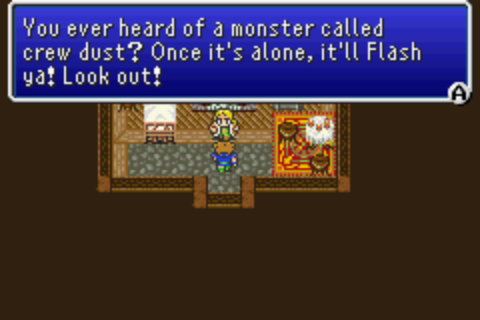 This guy tells us about how crew dust want to show us their naked bodies, the perverts. What this tells us though is that as long as you don't leave a crew dust enemy by itself, it won't use Flash. We already learned Flash on North Mountain (or at least I did) so I don't need to see it again.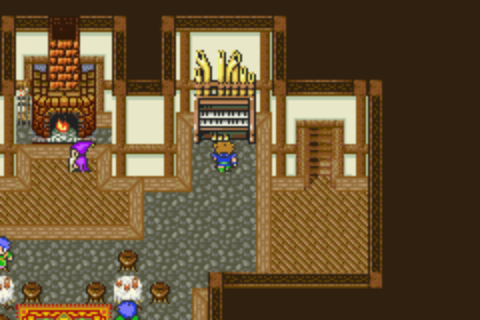 The third piano! Play it!
http://www.youtube.com/watch?v=PiG1Shq6SUs
Hey, not bad. Our piano skills are really picking up.
After buying all the stuff you need, head on down to the fire-powered ship. It's right below the castle.
Cid berates us when we arrive.
Just as I suspected--the ship's engine is what's draining the crystal's power.

The engine?
Bartz isn't too familiar with technology. Most of the party isn't I'd wager, as they were wondering how Faris' ship was sailing without wind, and if they knew about ships with engines they would've just assumed she had one of those.
Yes... If the engine isn't stopped--and quickly--the fire crystal will shatter. Will you go?
We have a bad record of protecting crystals, but hey why not. The party agrees and Cid takes them to the door, warning them that there's monsters, which we already knew.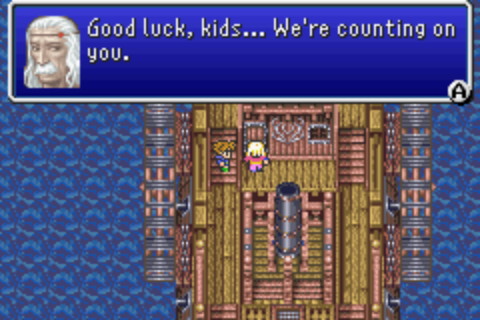 http://www.youtube.com/watch?v=SmHeP9Sve48
We're in the fire-powered ship! The music here is pretty great.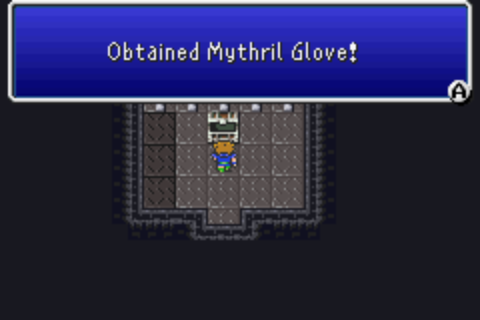 The door closest to your starting position has a Mythril Glove in it. Whoops, guess I didn't need to buy one in Karnak.
These are crew dust. They're weak to ice, so Shiva is great for avoiding Flash. Remember, unlike black magic spells, summons do not split their power across multiple targets.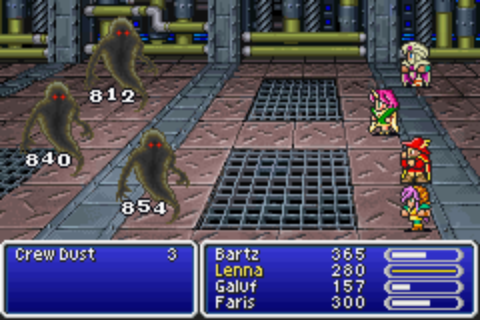 Lenna also has the Ice Rod equipped to boost her ice magic.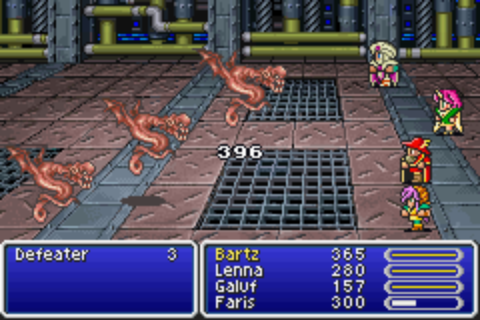 These are Defeaters. They're kind of an interesting enemy in that they can summon other enemies. How it works is if you battle in such a way that one Defeater is left on the battlefield, when that Defeater is killed, Motor Traps will appear. If you beat all Defeaters at the same time, or if it's with other enemies and you beat the Defeater before the other enemies, Motor Traps will not appear.
These are Motor Traps.
They are weak to lightning, but you might not want to cast lightning elemental spells on them.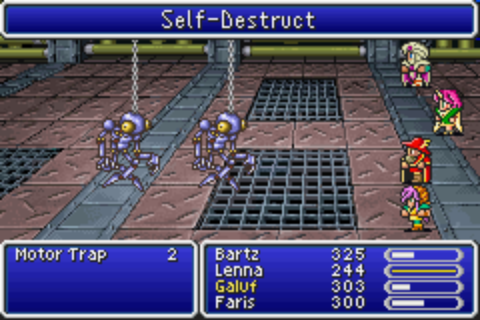 Because when they are hit by a lightning spell, they will use Self-Destruct. Self-Destruct is a blue magic spell, so you can learn it, and may want to if you want a full blue magic spell list. Self-Destruct deals your current HP in damage to the target, so if you have 5000 HP, you'll do 5000 damage with Self-Destruct. It will also instantly KO you. Well, it is Self-Destruct after all. This makes Self-Destruct pretty much completely useless. There's much better ways to deal much more damage that don't involve another character needing to take a turn to resurrect someone.
Well, after all that, you should head to the far left of the first room.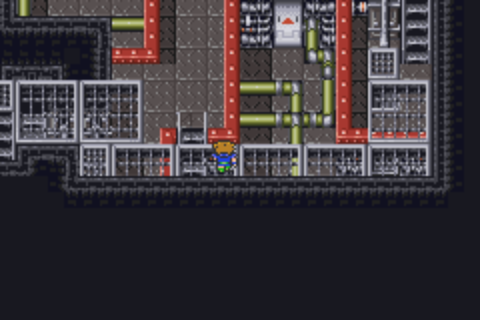 I just really like how this looks, I'm not able to show it in motion, but the room you were just in scrolls underneath you while you're on this metal grating. It's neat. Anyway, this path takes you to an Elixir at the end of it.
The first room you were in has a Cottage in the upper right.
These stairs will also take you to another Elixir.
And this door will continue your journey to save the fire crystal.
Hit the switch on the elevator to take you to another floor. You know, like how elevators work in real life.
A Phoenix Down! Also the guide I'm using says if you didn't pick up the World Map in the Ship Graveyard, it'll be here. I'll take his word for it, since I've never come here without the map.
Boy that chest sure looks nice, too bad there's a conveyor belt preventing you from getting it from here.
This is another enemy in the ship, it's undead. Also as someone pointed out on another forum, if you look at that Poltergeist, it doesn't have two heads. The face has been ripped off, leaving the bare skull on the left and the ripped-off face on the right. Yeah. Messed up.
This is the way you want to go, walking through this pipe. Tube. Vent. Whatever.
There's a lot of ways to go here, and unfortunately there's a point of no return that screws you out of some treasure. So here's the best way to go.
Take this pipe first.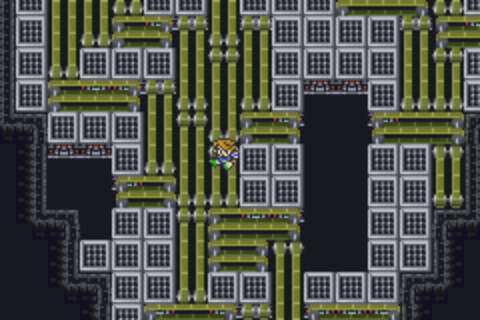 It'll drop you into a CRAZY maze of conveyors! There's no way to control your path, so don't worry about it. It'll drop you into a pit.
Hey, that treasure chest we couldn't get before!
Hey, the Thief's Gloves! Sweet! I've mentioned these before. Only two jobs can equip the Thief's Gloves, Thief and Freelancer. Thief's Gloves doubles your chances of stealing an item with !Steal and !Mug. This means that while you can put !Steal and !Mug on other jobs, the Thief is always going to be better than them at stealing.
It also boosts agility by a point and defense by a bit, though magic defense takes a nasty hit. Still, I want it on at least for now, since there's some sweet gear to steal coming up.
This is the pipe to take next.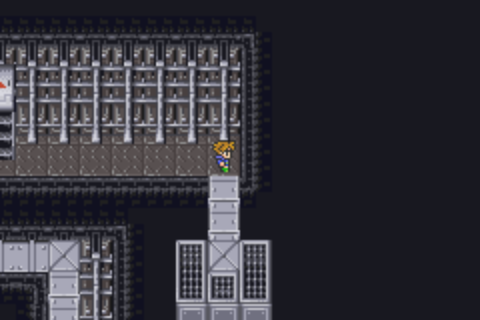 When you land, go to the right and down this path. There's a chest with a Green Beret in it!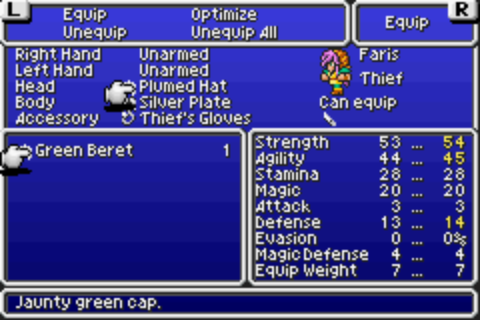 Green Berets are nice, they boost strength and agility as well as providing better defense than a Plumed Hat.
Finally, this is the last path you want to take. If you go down this pipe before the other two, you'll miss out on the Thief's Gloves and Green Beret (for a while at least).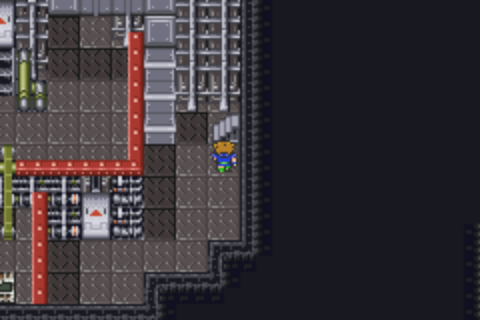 Go up the stairs first. You'll get a neat new weapon for doing so.
The Moonring Blade is a back-row compatible weapon, like the Flail is, meaning anyone who has it does full damage from the back row. It's time to equip my Thief with a weapon (though I'm keeping Barehanded on her for the strength boost) and stick her in the back row.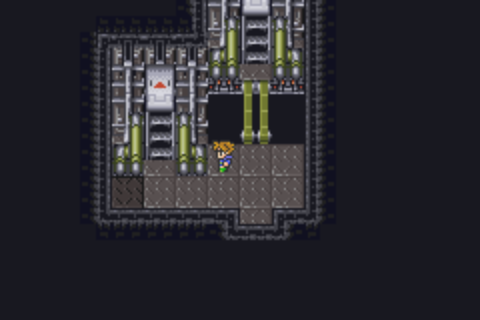 The door with the conveyor in front of it doesn't lead anywhere interesting, so take the door on the left.
There's a "maze" of platforms and switches in here, but it's pretty simple.
There's an Elixir at the top of this room too.
Finally we reach the engine room, and Queen Karnak, the queen of Karnak. If you'd gone in the throne room of Karnak Castle earlier the chancellor would've said the queen was gone. Here's where she was.

What's going on?
Uh-oh, the screen turned red, and she's surrounded by that weird energy that surrounded King Tycoon.

Infidels... You shall pay for interfering with my revival!
Queen Karnak what are you even talking about.
No time to worry now, she's burning us alive!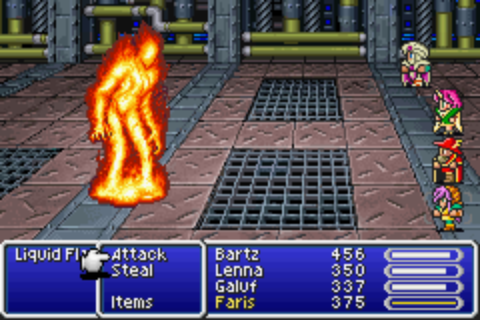 Boss time! Liquid Flame is weak to ice. Well...sometimes it is. It starts out in its humanoid form and will sometimes use Blaze.
Blaze hits your entire party and deals 25% of your max HP.
So Liquid Flame's gimmick is it will change forms as you damage it, and this is its second form. It can cast Fira on itself to heal itself, and Magnet, which does nothing except pull your back row party members to the front row.
Bartz with a Blizzara Spellblade and Two-Handed wrecks this boss.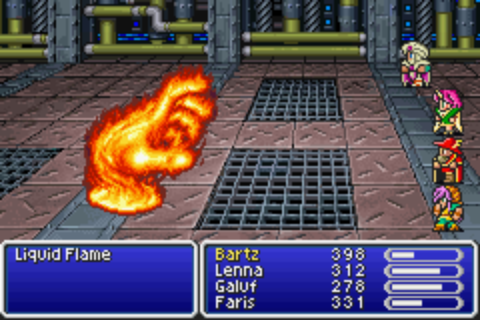 The hand form is probably the most annoying, as it is immune to ice, meaning if you have a Mystic Knight with a Blizzara blade, they won't be able to deal damage.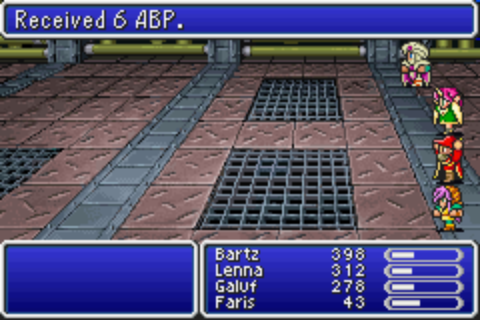 But just keep pounding on it and it'll go down, since its other two forms are ice weak and you can deal tons of damage in those forms.
You will get a Flame Scroll after the battle, which is useless at the moment.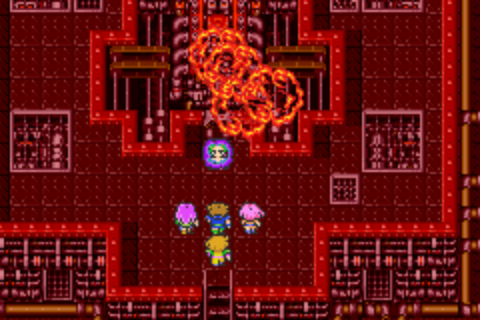 The fire-powered ship's engine explodes, hopefully saving the fire crystal.

I...I was being controlled by something...an evil spirit... It desires to envelop everything in darkness...

Your Highness...

The crystals...it's not just the machines that are destroying them... Something evil is using their power to resurrect itself... Please, save the fire crystal. It's in the room just through that pipe...
Well, this is certainly some disturbing news. Let's hope it's not too late for the fire crystal.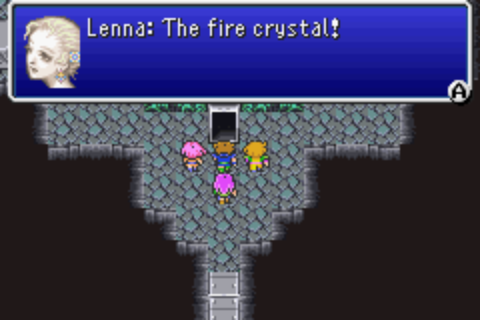 As you walk into the fire crystal room, a werewolf appears, the same one from Karnak Castle. The one you're supposedly in cahoots with.
[impng[/img]
If they can't help, I guess I can't either.
[img]httppng[/img]
These are crew dust. They're weak to ice, so Shiva is great for avoiding Flash. Remember, unlike black magic spells, summons do not split their power across multiple targets.
[img]httpg]http://i22.photobucket.com/albums/b320/kaemmerite/FFVLP/FFV6/capture_166_20012013_022100.png[/img]
The werewolf also seems to know Galuf.

We won't //i22let you touch the crystal, werewolf!

Stand down, I am not your enemy!

I'm not so sure about that!
Bartz you are so dumb sometimes.

Galuf, say something! What's happened...is something wrong?
You know me? Ughhh... Can't remember a thing... Who in blazes am I, anyway...
While the party talks, a Karnak soldier sneaks in and flips a switch in the back.

You there--what have you done!? Sending that much power through the crystal will smash it to smithereens!
Oh, well that explains why he did that.

And this makes three... One more and the seal is broken. Mwah-hahaha!
Bartz tries to flip the switch back, but unfortunately it's broken and won't move, meaning the fire crystal is doomed.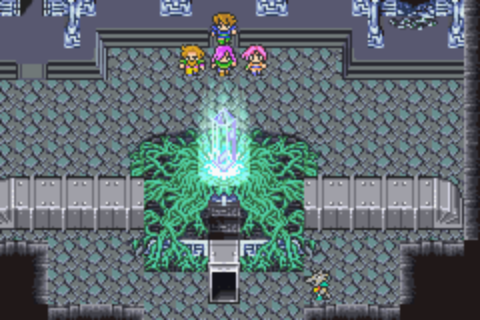 And at that moment, the pieces of machinery surrounding the fire crystal close.
The room starts to burn and crumble as the werewolf holds back the last bit of machinery.

Get out of here, and protect the last crystal with your lives!

Werewolf!

We have to help him!
The party is unfortunately unable to help, as the floor gives way beneath their feet.
And with that, the werewolf is crushed by the machinery. Once again, Galuf was unable to learn anything about himself, and another friend has died.
The party wakes up on the floor below.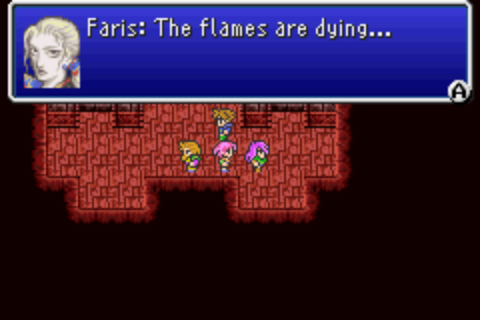 The fire crystal must've lost its power...
The situation doesn't look much better upstairs.
Where's the werewolf?

He probably got trapped in the fire...couldn't get out...

We have to hurry! The castle was held together by the power of the fire crystal!

Hold up--so now that the crystal's gone, the castle's gonna blow!?

Exactly! We've no time to lose!
I'm not exactly sure when Lenna got this information, but she's absolutely correct. The party rushes back downstairs, and you get this message.
Yep, you've got ten minutes to make it out of Karnak Castle, or it's game over. Fortunately you start out right in front of a save point, so you don't have to do the fire-powered ship all over again.
If you turn around and head back downstairs, you'll find a healing pot that will restore you to full strength. Just in case you're in bad shape from the Liquid Flame battle.
Oh yeah, going into the menu doesn't stop the timer. You'll see it counting down next to the Play time counter instead of your actual play time like you normally have there. The only way to catch your breath is to get into a battle and open the magic/item menus (if you're in Wait mode).
The fires in Karnak Castle are gone, meaning you can grab all those chests that eluded you on your first visit. But...well...
...most of them are trapped and force you into battles when you open them. Now, if you know where to go and have the right abilities and jobs set, you have plenty of time to open all the chests. However, I'll make note of the most important chests. Oh yeah, and you want to get to the end with a lot of time to spare if you want to learn a new blue magic spell.
Anyway this is one of the encounters you'll get in trapped chests. This isn't too hard, just time consuming. The Sorcerer has really good items to steal, so you'll want a Thief along with Thief's Gloves on.
This is the common steal from Sorcerers, the Mage Masher, which is a decently powerful dagger that sometimes inflicts Silence on the enemy.
You get an Elixir for your trouble from this chest. There's a lot of Elixir chests here, which you may or may not want. I always end up with a ton of unused Elixirs by the end of the game because I'm the kind of person that goes "I should save these for when I REALLY need them" and then I end up at the final boss with like 40 Elixirs because I always thought I shouldn't use them.
This chest is trapped, and you definitely want this Ribbon. Don't skip this chest! There's a limited number of Ribbons in this game. While none of your current jobs (well, Freelancer) can equip it, it's still a must-have.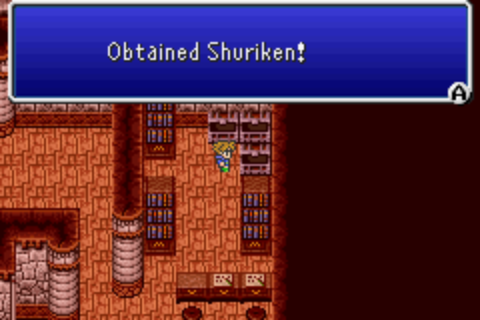 This chest is trapped, and contains something we can't use right now.
Oh yeah, there's also random encounters while you run through Karnak Castle, not just the chest enemies. Most of these battles end by a single Shiva casting with an Ice Rod on.
When you get to the main hall, go up the stairs that were blocked off by fire before, starting with the ones on the left.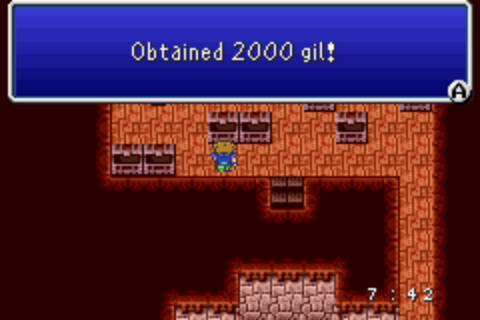 This chest isn't trapped, but the other one in this room is (and it has an Elixir).
This is the rare steal from a Sorceror, the Gaia Gear. It absorbs earth elemental attacks, and it has great defense power, so it's worth it to try and get at least one from these fights (this is another reason to go after the Elixir chests). I probably wouldn't reset my game if I went through the whole castle and didn't get one, but it's a sweet bonus if you do manage to grab any.
Take these stairs in the upper left of this room. You'll go outside the castle, then run along the outside and to another staircase, which you'll go down a few floors to get to.
This chest is trapped with a Gigas, who I oddly do not have a screenshot of. Weird. Gigas have a good amount of HP and can cast Aera, which a Blue Mage/learning character could learn here, but as you're on a short timer it's better learned elsewhere, although it can be nice if you happen to get it. Anyway, it contains a second (or first if you decided to skip Walse Castle basement) Elven Mantle for you. Since these are good, you definitely want this!
When you get back to the main hall, take the stairs on the right now.
This chest is trapped and has an Elixir. Like the other room on the left, the other chest is trap-free and contains 2000 Gil.
Take the stairs in the upper left, and you'll go through a series of areas like the one on the right, ending in this chest.
Which is also protected by a Gigas, and contains a great weapon. The Main Gauche is a dagger that has a 25% chance of blocking any physical attack, in addition to your normal evasion stat. It's pretty high in attack power too, so you want this as well!
You can now finally go south in the main hall, and grab the treasures on either side.
This chest is trapped, and contains the Esuna spell, a level 4 White spell that will remove all negative status effects on an ally. If you don't get it here, it's going to be a while before you have a chance to buy it in a shop. Since you get it for free here, no reason not to grab it.
The chest on the right contains a Lightning Scroll, similar to the Flame Scroll from before. And it's also trapped. Now get out of the castle, but make sure you have some time on the clock, and it might be a good idea to make everybody Blue Mages or equip Learning.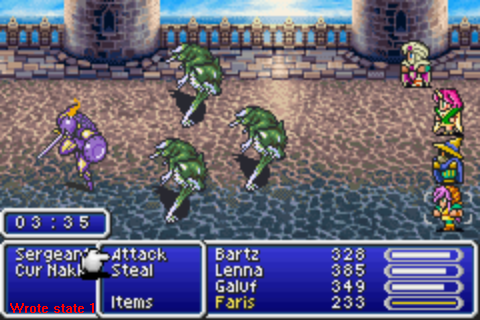 Oh look "Wrote state 1" in the corner. Eh. Yeah, I risked this battle with only Galuf having Learning because I was able to savestate if it didn't go well for me. If you're playing this game on the cart, you obviously can't do this, which is why it's better to just make everybody Blue Mages if they don't have Learning. This battle looks fairly normal, like the other random encounters in Karnak Castle.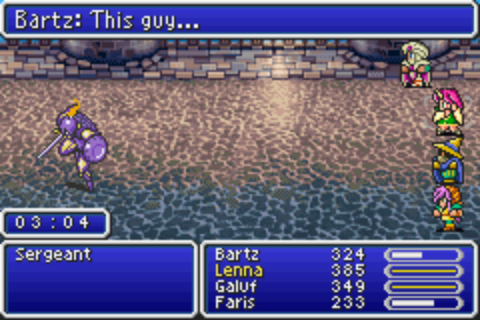 But when you take out all the Cur Nakks, a small exchange takes place.

He's no ordinary soldier!
Show us your true form!

You wish to know my true identity? I am the famed bounty hunter...Iron Claw! MORPH!
Iron Claw drops his disguise, and now the mini-boss battle begins. Iron Claw can use the blue magic spell Death Claw.
This is why you want Blue Mages/Learning characters.
Faris has been hit by Death Claw, which puts your HP in the single digits (not necessarily 1, although it was here) and paralyzes you.
Iron Claw has decent defense, but magic works fine, and he's only got 900 HP. Shouldn't be too much trouble, unless you didn't have enough time on the clock when you got here.
After escaping Karnak Castle, it explodes, and takes a bit of the wall beside it out.
Five crystal shards drop from the sky due to the explosion, but the party only manages to snag three of them, unlocking three new jobs: Ninja, Beastmaster, and Geomancer, which I'll cover in the next update.
Next time: Final Fantasy V teaches us that reading books can kill you.