Genesis: Book 1- Multitude of Slanders
In the realm of Eternity, the heavenly host celebrates the completion of Yahuwah's Creation. As all the sons of God cheer, The Creator speaks in a powerful and thunderous voice like that of a thousand waterfalls:
MY SONS, ALL OF CREATION IS GOOD BEFORE MY EYES. AND I HAVE MADE MAN, WHOM I CHERISH WITH ALL MY HEART, A LITTLE LOWER THAN YOU. I HAVE CROWNED HIM WITH GLORY AND HONOR. AND HAVE MADE HIM TO HAVE DOMINION OVER THE WORKS OF MY HANDS, PUTTING ALL THINGS ON EARTH UNDER HIS FEET.
THEREFORE, A NEW DECREE I MAKE. I CHARGE YOU, MY SONS, TO BE SERVANTS OF MAN; TO CARE FOR HIS NEEDS AND KEEP HIM IN MY WAYS.
AND TO EOSPHOROS, I CHARGE YOU AS GUARDIAN OF THE GARDEN OF EDEN. SERVE THE MAN AND WOMAN WELL, MY SON.
All the saints shout, "Glory be to Yahuwah Almighty". Yet, within the minds of some of these saints, seeds of doubts will arise because of one being in particular who has vowed within himself to change the course of Eternity. Who among the sons of God will choose to follow this Renegade? And who among them will choose to stand for their Creator and for their fellow brother, Man?
Setting: The infinite expanse of Heaven, full of wonders and beauty beyond imagining. Some of the most frequented places are: the Congregation of hosts situated in the northern most part of the Universe amongst the stars, the training grounds of the heavenly armies, the Golden City of Yahuwah, the Throne of Yahuwah, Earth, and the Garden of Eden.
The Story revolves around the infighting between the saints (i.e. angels) over this new decree resulting from the one instigating all this conflict through his many slanders. The end of this first book will culminate in a war the likes of which has never been seen.
The limit is 3 characters per players, just so people don't get too overwhelmed. You're allowed to have side characters for the sake of the story, but they shouldn't be your main characters.
This is my first time trying this out. So please forgive my newbieness. Hopefully we can get some people to join in.
Character Sheets
Name: (I leave it to the player if he/she wants to play as an original angel or an established angel, i.e. Michael, Gabriel, etc.)
Rank: (only 7 Archangels allowed; Angel)
Gender: (this is purely for appearance only, angels don't have genders)
Appearance: (Angels can actually be anything really. They don't have to have wings nor do they have to be human-looking. They can be elementals, animals or a mix of animals as well. The four living creatures in Revelation is an example of that.)
Powers:
History:
My character:
Name: Heosphoros (aka Heylel; aka Lucifer)
Rank: Archangel
Gender: Male
Appearance: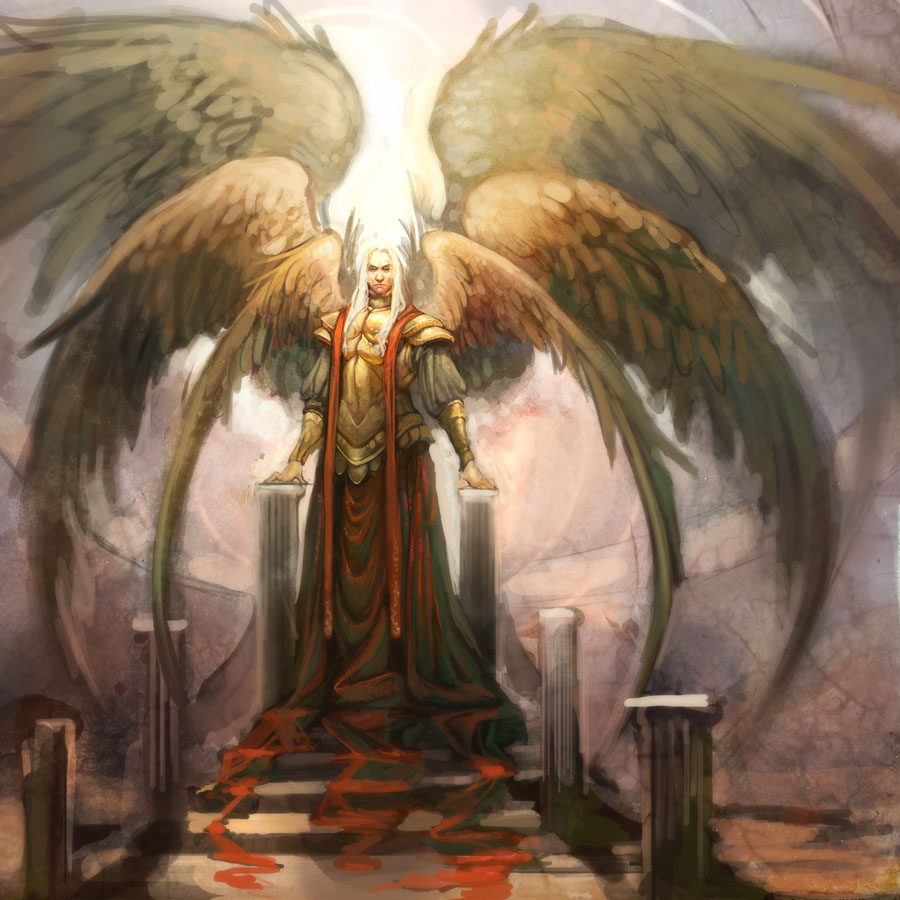 Power: All elements and skilled in all manners of weaponry, but mostly sticks to his broadsword.
History: The highest of all of Yahuwah's Creation. He is the Leader of Yahuwah's worship choir, Commander of a third of the heavenly host, and Gaurdian of the Garden of Eden. Overtaken by his pride, he views Yahuwah's new decree with utter disdain and inwardly loathes Man. Therefore, He seeks to follow his own path and convince many to follow him.
Name: Michael
Rank: Archangel
Gender: Male
Appearance:
link
Powers: Unparalleled in strength and unequaled in combat amongst the sons of God
History: The highest of the Seraphim (second only to Eosphoros), Supreme Commander of 2/3 of the armies of Yahuwah, and Protector of God's Creation. He is the humblest of the sons of God and has an unending loyalty to Yahuwah. Both he and Eosphoros have a strong friendship and love to compete with each other. He views Man with wonder and delight in his heart, as he sees a bit of himself in Man.
Name: Seraphiel
Rank: Judge
Gender: Female
Appearance:
link
Powers: Divine light and fire, has the power to silence a person, can take on the form of an eagle, and is a master at long range combat.
History: One of the highest and most illustrious of the Burning Ones (Seraphim) and is one of 7 judges of angels. She presides over the affairs of the angels in the Congregation of Hosts and teaches the angels to sing songs that glorify Yahuwah. A close companion of both Michael and Heosphoros. She's not sure of what to think of Yahuwah's new decree, but obeys nonetheless.
Alright, let's have some fun, some drama, some tears shed, and some gummy bears
mmmmm