[SIZE="5"]Welcome to the Wonderful World of Manga[/SIZE]
What's Manga?
Manga are Japanese comics. In fact, "Manga" is the Japanese word for comics (American and European included), though it's generally used to refer exclusively to Japanese comics by their foreign readers.
Though the roots of Manga go deep, Manga as we understand it today is a relic of Japan's Post-War Era rebuilding, where comics were a cheap and disposable source of entertainment, leading to their rise in popularity over the next few decades. Today, Manga makes up a significant portion of the Japanese publishing industry.
And we care because?
One of the interesting things about Manga is how much ground it manages to cover, making for a diverse selection of genres and subject matter to choose from. You can find Manga about cooking, sports, home life, and gambling; there's historical Manga, science-fiction and fantasy, action, adventure, romance; there's even autobiographical Manga. It's a staggering range of content to consider, and only a fraction of it will ever be available overseas.
So what's this thread for?
I'm glad you asked.
The purpose of this thread is to introduce CAA members to a wider selection of Manga than they might ordinarily find, challenging them to pick up something new and different, and talk about it. We're sort of a club, though anyone and everyone can be a member - I know, very inclusive.
Don't we already have a thread for this?
Yes we do
, but that's entirely different stop talking about it.
How does it work?
Simple.
Every month, we ("We" being a few of us handpicked for our good taste) will select a particular Manga title and suggest you read the first volume. You're welcome to read more than just the first volume, of course, but only the first will be mandatory. Occasionally we will suggest something that has only one volume, so that's that. You'll have a whole month to track it down and read it, after which you're invited to discuss it in this thread. New month, new Manga, etcetera unless we suddenly run out of Manga.
Ideally, you'll discover something you'd never read before, and be opened up some new reading material.
What kind of stuff will you be recommending?
Not Bleach.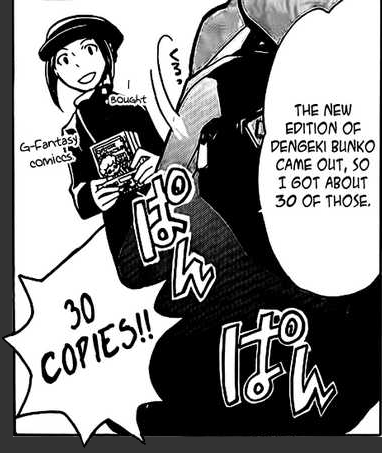 How should I track this stuff down?
Alright, now pay attention, because this is the important part.
[color="Red"]
If the Manga recommended is commercially available in your country, we cannot stress enough how important it is that you acquire a copy legally.
[/color] Buy it, rent it, borrow it from the library, borrow it from a friend, read it in the store, whatever fits. If you find a series you'd like to follow because of this thread, please back it financially, or at least use legal routes of obtaining it.
That said―
We may occasionally recommend a Manga that is not (yet?) available in your area.
[color="Red"] In the event that the title cannot be found in your country, we leave finding it up to the individual conscience of the reader.[/color]
If you feel justified in using online means of reading unlicensed Manga, that is your prerogative; if you do not feel that is acceptable, that is also your right to decline our recommendation. However, [color="Red"]
please do not turn this thread into a debate over the morality and legality of reading Manga online.
[/color]
Furthermore, [color="Red"]
we will NOT provide links or directions to such sites. Please do not ask for them in this thread.
[/color] Thank you.
Will everything recommended be age appropriate?
Because the minimum age requirement to post on CAA is 13, "PG-13" titles may be submitted at your discretion, although we may (rarely,
rarely
) blur the line. All recommendations will include an age rating and brief content description. You will never be required to read something you find objectionable or uncomfortable. It should go without saying Manga featuring heavy violence and sexual content will be kept out of this thread. We will never feature Berserk in one of our recommendations.
Some examples of ratings:
All Yotsuba&! (safely recommended)
13+ One Piece (safely recommended)
15+ FullMetal Alchemist (safely recommended)
17+ Hellsing (borderline)
19+ Berserk (not recommended)
Well I'm in.
Then let's get started.