PART NINETEEN - Punching Trees
So it's pretty obvious by now I didn't get an update before the end of February, and indeed, it's almost the end of March. Whoops. :V The very good news is that I have less classes now (my keyboarding class was only a month and a half) and I am now on a brand-spankin' new computer courtesy of Lenovo. The bad news is that Hyrule Warriors Legends just came out, so I'm very tempted to play that, and in a couple of weeks Bravely Second comes out. But, for the moment, I'm making this update and will plan to update at least every two weeks! I know. I've said that before, but hopefully this time I can keep to it for the two people who are still reading this. That said, this is a very big update plot-wise, so let's get right into it.
After talking to Ghido, the Light Warriors received the Guardian Branch and were told to go to the Forest of Moore. You could have gone there earlier when you went to the town of Moore but you would've just found a dead end.
Across this bridge is the entrance to the forest.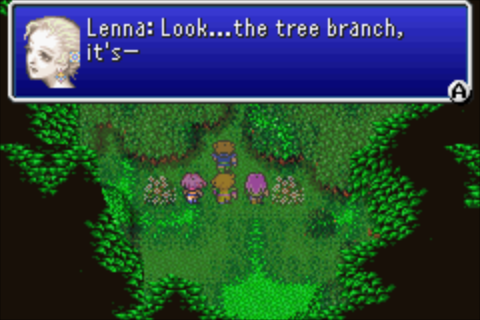 The Guardian Branch will sparkle and fly into the air, and then a path will open up, allowing you to enter. The Forest of Moore has its own track,
Legend of the Deep Forest,
although it's apparently been renamed to As I Feel, You Feel. It has a vocal version as well, sung by Angelit in the Sami language (which was also used for the vocal version of Home, Sweet Home).
Another thing to note is that the Forest of Moore has a stupid high encounter rate so yeah.
Mammons are weak to fire and like to cast Berserk on their own party members, causing them to hit pretty hard, even the wizard type enemies which you might not expect. Mammons are also notable for their Beastmaster release attack (Berserk) but we'll cover that in a much later update.
Galajelly absorbs every element but wind and has incredibly high evasion but low HP, it can also use Rainbow Wind to inflict Darkness and Silence on your party. !Aim works fine, as does !Rapid Fire (though you probably don't have that yet) since those ignore evasion. Other options are of course Aero/Aera spells from the Blue magic command or !Gaia.
Mini Magicians use Lilliputian Lyric, which a Blue Mage/Learning character can learn. It inflicts the Mini status on the target. You can't get it by Control so you have to wait for them to use it. Don't confuse them either, as they can cast Return if they do which resets the battle.
One of the citizens of Moore says something about fairies or spirits or something helping out in the forest. That's what this tree with a hole in it is about, examine the hole and a sparkle comes out, opening a path to the next area.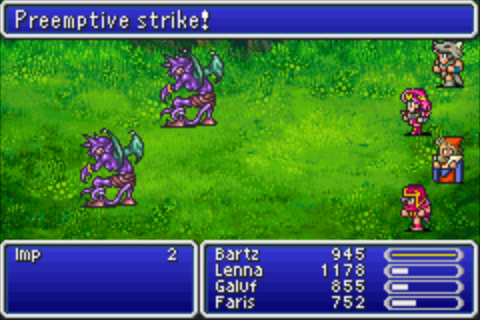 Imps like to cast Confuse on your party and have lots of HP.
Wyrms can use Breath Wing but that's about it.
There's a save point that's sorta hard to see in the middle of these flowers.
This is the only really unique treasure in the first part of the forest, the Morning Star. Remember that Flail you could get way back in the Ship's Graveyard at the beginning of the game? This is the upgraded version of it, it does full damage from the back row, Two-Handed boosts its damage, and it effectively functions as an axe, meaning it can ignore most of the enemy's defense. That said, White Mages should almost never be attacking, and Chemist/Red/Time Mages have better things to do with their turns, so the Morning Star is basically useless.
After the Morning Star chest, a bit to the left, story stuff happens.
Those playing on emulators take note! The slowdown during this part of the game is ABYSMAL. There's not much you can do about it as there's some particular reason why the slowdown is so awful that has to do with the Game Boy Advance's hardware (something about the BIOS maybe?) so you might just want to use the fast-forward feature.
There's nothing you can do at this part but wait around for a while, but there is one very important decision to make at this point.
There is a chest above you, and depending on when you get it, it has a different item. If you choose to open the chest now, you'll get an Aegis Shield. If you wait until after the next bit, you'll get a Flame Shield.
So which is better? Well, let's start with the Flame Shield. Its base stats are 7 Defense, 40% Evade, 5 Magic Defense, and it allows you to absorb fire elemental attacks.
By comparison the Aegis Shield gives 5 Defense, 33% Evade, and prevents Petrify. At first glance, the Flame Shield might seem like the better deal, but note the description in that image. Whenever a magical attack is made on a character equipped with the Aegis Shield, there is a 33% chance that the spell misses.
You're almost always going to want to go for the Aegis Shield. There are very rare challenge run situations where you might want the Flame Shield instead but the Aegis Shield's special spell-nullifying property makes it by far the better choice.
So after you've taken the chest (or not) after a while of waiting around a moogle will pop out from underground. He'll look around and wave, and this means you should jump into the hole he came out of.
In this cave there's a healing spring. A moogle will block the stairway out, and you'll just have to wait around a while until he moves out of the way.
When you emerge you'll notice the flames have taken their toll on the forest. If you got the Aegis Shield, that chest will still appear closed, but it'll say "Empty!" when you open it. If you didn't get the Aegis Shield, go claim your Flame Shield from it.
Even though the forest is burned, when you run into a battle you'll still have the lush green forest background. Eh, what can you do, the programmers didn't want to make a new background that would only be used for such a short period of time I guess.
A chest on the way contains Ash, an item used with the Ninja's !Throw command, which deals pitiful damage. I think it has an attack power of 1. Past the Ash chest, you'll find the Flametongue. This is your first Knightsword, a sword that can only be equipped by Knights. Other classes that can use swords like Blue/Red Mage and Mystic Knight can only equip this by using the Knight's Equip Swords support ability. The Flametongue deals fire elemental damage, though you could probably tell that from the name.
South of the Flametongue chest there's an exit you can use if you need to go buy items or use a cottage or whatever. If you head north, you'll reach the next story bit.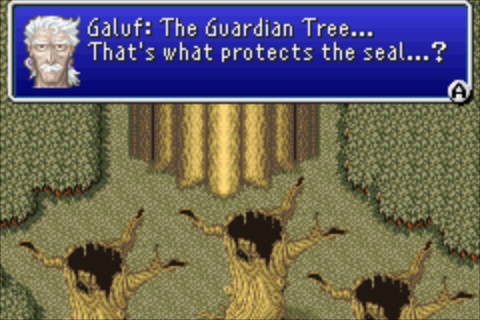 Much like before, the Guardian Branch will come out, sparkle, and arrange the landscape so that you can reach the Guardian Tree, also it will open a hole so you can enter. It's boss time, so be sure you're prepared.
Those must be whatever's sealed in here!
They'll come down, jump at the party, and it's time to fight!
So as you can see there's no name listed on the battle screen, but I think they're officialy called the Seal Guardians, although some players just refer to them as the Crystal fight.
So here's the deal with these things. Each one absorbs a different element, starting from the top and going clockwise, you have fire, water, earth, wind. Each has 7777 HP and, for most of the fight, will simply smack the party with physical attacks. However what makes this fight really difficult is that when you bring a crystal below 3000 HP, they start spamming elemental attacks. The fire crystal casts a full party Firaga, the water crystal casts Aqua Breath, the earth crystal casts Earth Shaker and the wind crystal casts a full party Aeroga.
So this means a couple of things. One, don't ever (or at least rarely use) multi-target attacks. If you have all four crystals below 3000 HP then you're going to die, period. Two, if possible, you should exploit a particular vulnerability.
See, none of the crystals are heavy, and they aren't immune to instant death either (they are, however, immune to Petrify). If you have a Chemist, then remember that Phoenix Down + Dark Matter creates Death Potion, and they're gone. You can also, should you have grinded for it, use Samurai's !Iainuki ability. This also has the advantage of potentially being able to take out multiple crystals at once, but the success rate is very low. It's still preferable to fighting them normally. There's also the Death Sickle from Bartz's world if you have a Berserker around, though keep in mind that Death doesn't always proc from that, so you need to keep an eye on how much damage the Zerker is doing to the crystals to prevent them from bringing one below 3000.
There is the Blue magic spell Death Claw, and you can use that, but you have to be careful. It will miss a lot, since the crystals are level 77 and the chance to hit takes level into account, so basically you're working on a less than 10% chance for Death Claw to hit, but there's two other issues. The crystals are immune to paralyze, and Death Claw doesn't outright kill, it brings the target to single digit HP. Obviously, single digit is less than 3000, meaning it will trigger the crystal to start using its magic, and that could be deadly for you.
If you have to fight them normally, this fight is really tough. You'll want to keep up Golem if that's an option, and cast Slowga if possible too. Focus on crystals one at a time and figure out which one you'll leave for last. If you can cast Float, the earth crystal's Earth Shaker can be rendered harmless by it, so that's a good choice for leaving for last. If you have Reflect Rings, then Firaga and Aeroga are rendered harmless, and of course the Flame Shield (if you chose it) can absorb Firaga. Unfortunately, there's no getting around Aqua Breath as there's no way to absorb or nullify it, unless the Aegis Shield blocks it.
In certain challenge runs, depending on party formation, people end up grinding to buy four Flame Rings in Bartz's world (for a hefty total cost of 200,000 gil). Then you bring the fire crystal down below 3000 HP as quickly as possible and keep it there. The Flame Rings mean that Firaga effectively functions as a full party Curaga spell. Something to keep in mind! This is actually slightly preferable to Reflect Rings as if you don't have Golem you can't nullify the physical hits, and of course Aqua Breath can't be reflected, so having the healing from Flame Rings is super nice.
Mysterious voice (though come on, it's obvious who it is):
Well done; you've destroyed the seals. Mwa-hahaha! I suppose I should thank you for saving me the trouble!


Exdeath!!!


How ironic! The seals broken by the power of the four warriors meant to protect them!


They were crystals!?


The crystals which bound me for so long... Now, their power is mine!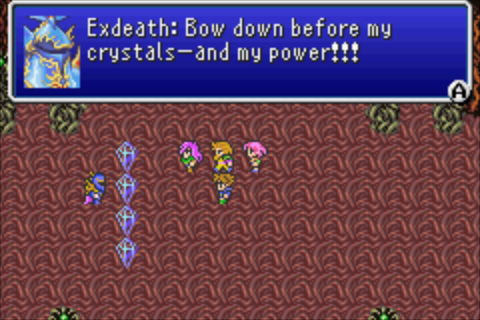 Kupo!


What? They're in the Forest of Moore? Come on, let's go!
The dragon roars in response to Krile, and it fades back to the Light Warriors...
Time for your viscera to see the light of day! Now die!
Exdeath is hit by a spell, knocking him down.
Krile...Exdeath-


Don't worry, he shouldn't be doing anything for a while... Oh!


Impudent little fool!


Die!
The limitations of sprites, the first time I played this game it just looked like he was moving Krile around the room, but what he's actually doing is slamming her body against the walls.
Gr...Grand...pa...!


Kr...Krile...!


So certain you want to keep moving, Galuf? Try to dispel this power, and your precious crystals will shatter!
Galuf, however, has already made his choice.
Boss time!
The music that plays in this battle is
The Decisive Battle
and yes it is the battle theme that plays during every Exdeath battle.
In this battle Galuf is functionally immortal, when your HP reaches 0 it doesn't matter. Exdeath will throw -aga level spells at you the entire time, and you'll have to deal 7000 damage to Exdeath to trigger the next event. This can be a bit of a headache if you've made Galuf something like a White/Time Mage with no offensive capabilities. There is a trick to ending the battle early that speed runners use, though obviously you have to set it up before the crystal battle which makes it difficult. If Galuf uses Self-Destruct, the !Mix TNT, or is wearing the Bone Mail and uses a Phoenix Down on himself, the battle will immediately end.
Once you've dealt 7000 points of damage to Exdeath...
Now I'll show you my true power! Prepare yourself for the afterlife!
Exdeath will then cast Flare, Holy, and finally Meteor, all of which will deal massive amounts of damage to Galuf, who still doesn't go down.
Why...why won't you die!?


Takes a lot more than that...for me to kick the bucket! I'll destroy you, Exdeath...even if it means I have to take you into the afterlife myself!


Fool! All the hatred in existence would never be enough to defeat me!


This...isn't anger...isn't hatred...it's...


Then...what...?
Damaging Exdeath three more times, regardless of how much or little it is, causes him to fall.
The three crystals fly into Exdeath's body, which vanishes.
Now, as you read this update, please listen to this music track,
Sorrows of Parting.
...Grandpa!



Galuf!


Grandpa!!!



Galuf!



Galuf!!!



Hold on, we can-


No good...'S too late...f'r me...



Galuf! Don't talk like that!



Galuf!



Get up, you old bat! Quit playing around, this isn't funny!


Wake up...wake up, please!


Bartz... Lenna, Faris... My dear Krile... Exdeath... Destroy...him...


Grandpa-! No! You can't die, you can't!!!



Galuf! Curaga!



Please... Raise!!!



Open your eyes! Phoenix Down! Elixir! Anything!
That's for all those people who ask why they don't just use Phoenix Downs on people who die in Final Fantasy games. They tried it on Galuf! They also try to use these spells/items even if you have none in your inventory or didn't buy them. Maybe that's why Raise didn't work, I didn't get a White Mage in this challenge run so I didn't buy it. :V
But in the end...
GRANDPA!!! No! No! You can't leave me, you can't die!!!
You can walk around a while, but there's no way to exit. You'll just have to wait around for a while. Man. Lots of parts in this section where you just have to stand around and do nothing. Kinda bad game design, though it actually fits well in this part. Eventually, Krile will speak...
Grandpa is calling...!
The exit will open up and Krile will rush outside, and now let's link the music track for this section,
The Day Will Come.
...? Grandpa!?
An item floats down from the sky.
borrow its power to speak to you. I don't have long. I want to give you my strength... C'mon, Krile...don't cry... Stand with Bartz and the others, be strong, and fight!


No! You do it, come back! Don't leave me alone!


You know I can't do that. But you're not alone, Krile. You understand that, don't you.

Krile received Galuf's abilities!
And, as Galuf's spirit departs, that is where we will leave this update.
Next time: How to get rich...and quick!