Hello everyone, and welcome to Let's Play Final Fantasy V Advance!
Final Fantasy V was originally released on the Super Famicom in 1992, and was not originally brought to the US. It was not until the release of Final Fantasy Anthology for the Playstation that US players were first able to see it (well, aside from fan-translated ROMs). Then, when the Game Boy Advance came out and porting Super Famicom/Nintendo games to it became all the rage, Final Fantasy V was released with the usual bonus content given to the Final Fantasy Advance games (note: Square may or may not have put actual effort into the bonus content). There was also an anime sequel called Legend of the Crystals.
We don't talk about Legend of the Crystals.
I'll be playing the Advance port. This port tweaked the graphics a tiny bit, and has the usual slightly lower quality music that plagued most SNES to GBA ports. It also fixes a couple of minor bugs in the original versions, adds a couple of its own minor bugs, and most importantly, lacks the loading times the PS1 version had.
I love Final Fantasy V, and this is due in no small part to the Job System. Just as the original FFIII took the Job System in the first game and expanded on it, so too does FFV expand and refine it even further. I'll give mini-updates about Jobs as the LP goes on, because there's a lot of info and it would break the flow too much to insert them in the regular updates. Besides, you don't have access to the Job System at the start of the game anyway.
So with all that said, Let's Play Final Fantasy V Advance!
Oh but wait, one rule before we start. NO SPOILERS. NONE. That is all. Now let's get on with it.
Part Zero: Introduction
This isn't really an update exactly, just setting the stage.
We start out with a bird's eye view of the world and Square Enix's name. Oh Square, back in the days when you were good...it's funny that the merger seems to have made Enix's already fantastic games even more fantastic, but Square's games...
We then cut to a crystal room. Probably the Wind Crystal though the rooms all look pretty much the same.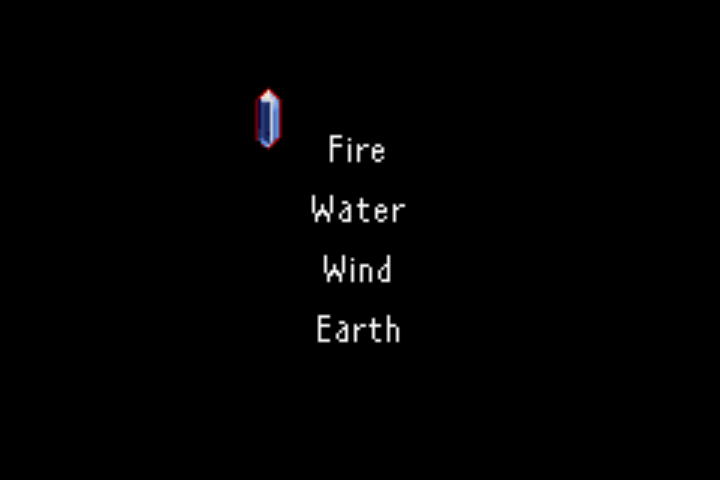 Heart! Oh, wait...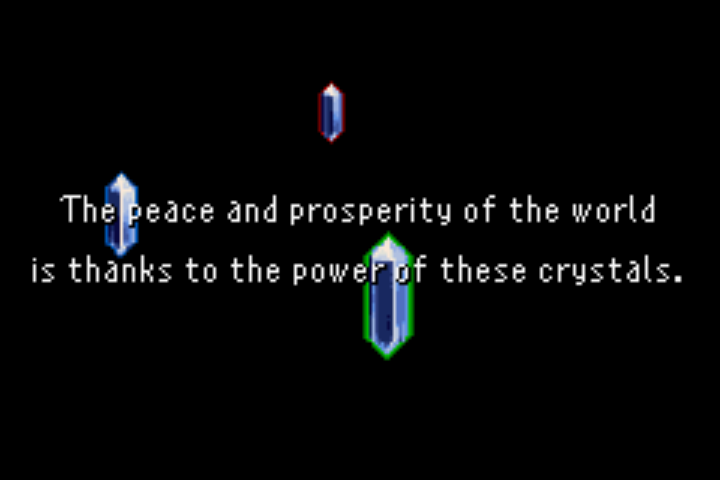 Thanks, crystals. Thrystals.
Well, "nearing" is pretty vauge, maybe we have a good five hundred years. After all, if they were made to last, say, a million years, five hundred years of power left would still technically be nearing the limit.
Big Bird and an unknown man stand at the edge of a cliff.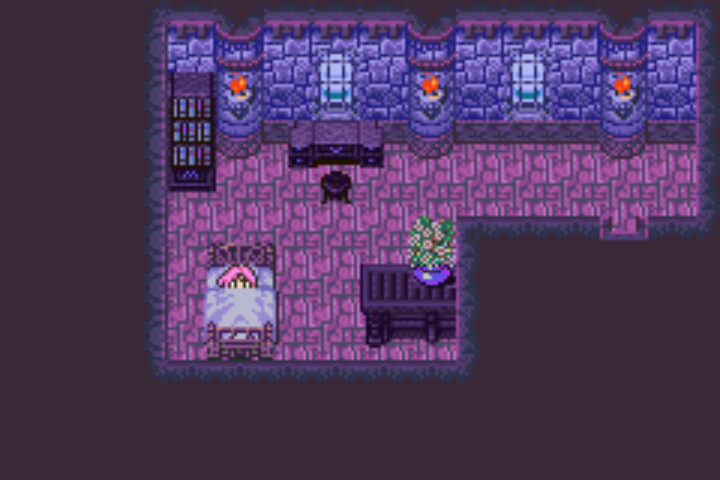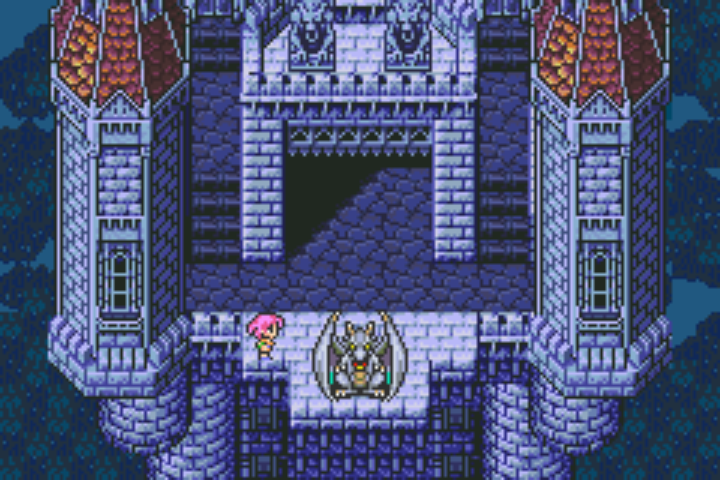 A girl gets up from her bed and goes out to see a dragon.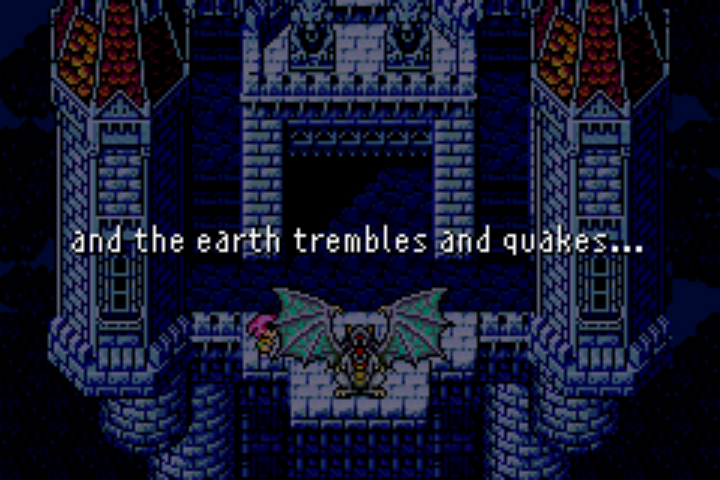 Just another day in California.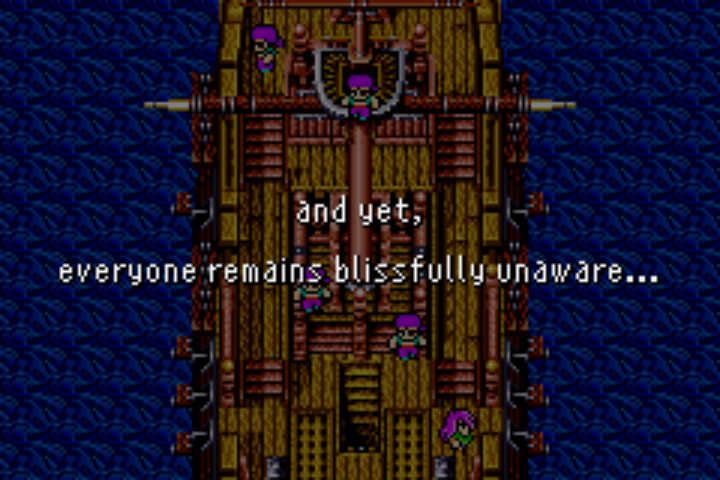 Well yeah, unless you have psychic powers it's usually pretty difficult to be aware of an impending disaster.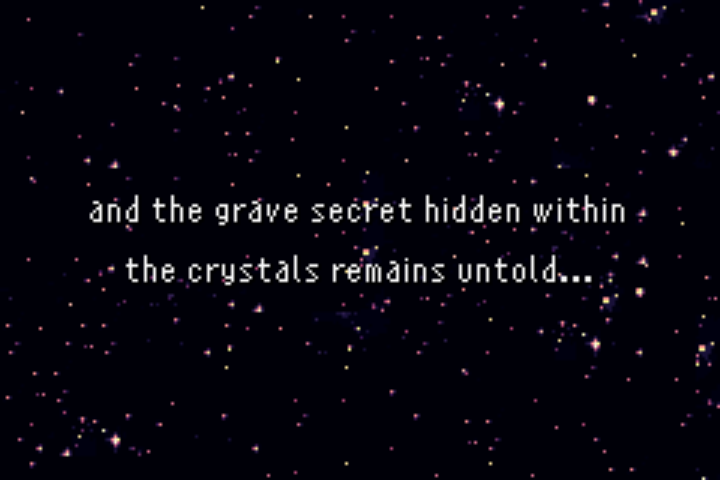 OMINOUS.
While we observe space, there's a flash of light.
A grainy meteor appears from it and flies off to the left.
I'm sure that'll never come up again!
And thus, the stage is set for Final Fantasy V Advance!
By the way, I'm aware the pictures are a bit large. I've been playing the game in 3x window size, which is nice for playing by myself, but a little excessive for screenshotting. I'll put the emulator down to 2x size, which is a much better size, not too large or small. I just don't want to go through the intro again to re-shoot those images.